How to Make Money from Freelancing: Are you still struggling to get projects or orders from the clients in spite of having enough knowledge of freelancing work, if so, you have got a perfect article to convert your passion into the money.
In order to make money online from freelancing, you need to get some project orders from the clients, right?
But think by keeping yourself in place of the client, if you want your work done by anyone, what would you prefer?
You will prefer the expert about that dedicated work because you want quality work, aren't you?
You might have awareness that freelancing is one of the best way to earn money online.
Go through this article till the end, I am sure this you have never ever read this type of information on any blog or view a video on YouTube.
If you search " How to make money from Freelancing" on Google, you will found about the sites, top 10 freelancing websites, Freelancer jobs, how to become a freelancer online, etc, etc…
But in this article, you are going to learn how to earn money online by freelancing with a specific and working strategy.
How to Make Money From FreeLancing – Intro
See, if you search on Google for "how to earn money from freelancing" or "how to make money from freelancing" or any content regarding earning money from freelancing, you will find blogs informing about the sites which are providing freelancing work.
But until you have the proper knowledge and strategies to get the orders from the clients, it is meaningless to register on those sites and finding work.
Here I am going to explore those strategies and hacks by which applying you will get orders from the clients from freelancing websites.
My Proof:
You can see how I got orders from Fiverr within 23 days after creating a Gig.
Do you know I had created my Fiverr account in Sep-2017, and I did not get any order till Sep -2020?
Then after making some strategies and working on them, I got back to back Three orders from Fiverr in the duration of One Month.
So, here I am going to explore some very important things, points, and strategies in order to get the project from the clients.
About Freelancing
Freelancing is one of the best platforms to earn money online without investment because here you need only skills.
You do not need any kind of reference, jack, recommendation, nothing of them.
Yes, when I started my career, I was struggling for the next 1.5 years almost to keep earning money online from freelancing.
Because of I was not getting proper results, I was constantly searching about "How to make money from freelancing"
But I did not get any useful references from anywhere.
Then I started to create my own method to get results.
I took almost 1 year to develop, and you know " Hard work beats the Talent"
Nowadays, I am getting enough orders from the clients from the different sites on which I am registered.
Register on Freelancing Websites
Registration on Freelancing sites is not a big deal, you can get registered by filling and updating your details in a couple of minutes.
You should select the site according to your interest and skills.
I have a good skill in content writing, so I chose to get orders in the writing profession.
There are many legit sites from which you can get orders as a freelancer.
You have to apply for freelance jobs that make money online by working for the clients.
This was the pre-initial step which is very easy.
But now we are going to explore those strategies by which you are going to get an order with 100% chances.
Be the Client First
After you register on freelancing sites, the actual work starts here.
Now before publishing your profile, portfolio, or skills, you need to do some strategic work.
Let us understand it by example.
Suppose you are having a blog and you want to write an article on your niche, but you do not have enough time to do the same.
You will plan to hire someone who can write a perfect blog article for your blog which fulfills your requirement.
What will you do?
You will go through many numbers of freelancers and their profile, you will review their history, samples, achievement, ratings, their work, feedback from clients for whom they work in past, and many more aspects, right?
If you found that someone is good for your article, then after you will place the order.
Same thing as a freelancer you need to do here.
Read: How to Earn Money Online
Create Portfolio
Create a portfolio by which a client can get an idea about the quality of your work.
Upload some real work done by you, it doesn't matter it was done for the client or for yourself.
I uploaded my blog links as a portfolio on my profile, and it works.
By viewing my posts, clients are making trust that this is what they are looking for.
Every freelancing websites are emphasizing or uploading the portfolio for freelancers.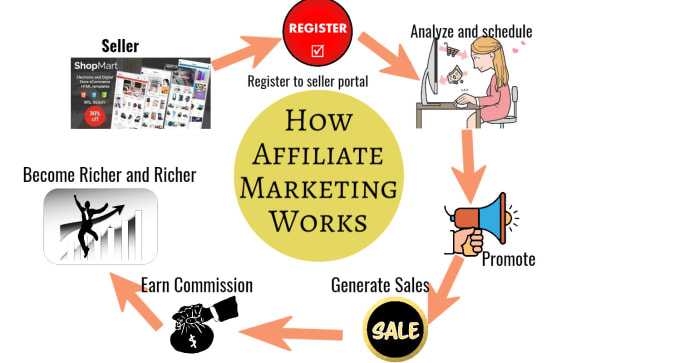 This is an image of my portfolio on Fiverr, and there are two more images for the same Gig.
Include the samples of your work you did for your clients or yourself.
Create Blog/Site about your Skills
You can do one very amazing thing that you can create (I think you must create) your site/blog which can represent your work in terms of samples.
Like, I have applied for the content writing on all freelancing sites, so I publish my website name.
So, whoever is interested in me, visits my blog, and checks the quality of my writing skills.
They check how I write articles, my grammatical score, tone of writing, my content is eye-catching or not, does my article force the user to take any action or not, etc…
By the articles which I have written for no-one, clients can get the idea that will I be able to accomplish their requirement or not.
Be Constantly Active on Freelancing Sites
This is a very important and effective aspect to get orders.
You may think, does it impact too much, right?
Yes, in some cases it happens that someone asks you for work, but you are not online, or you do not check your profile for a very long time.
In this case, the client does not wait too long for your reply, he looks for another one and hands him the project.
In this scenario, you lose the orders and it impacts your quality score also.
To avoid this kind of communication gap, you can install the mobile application of that site if you can not be more available on pc.
I am not approaching you to be online 24 X 7 on freelancing sites, but yes, whenever you get any kind of order or inquiry, you should reply in a maximum of one hour.
Give the Best Rate
See, as a beginner, you would not have any review from the clients which can justify your quality of work for the new client's satisfaction.
In this case, if you charge high, without trust no one will approach you to do their project.
Because trust is the base to build any business or professional relation.
In this case, you should charge a lower amount which should be affordable by the customer as a loss.
It means, that customers should think that, this is a very low amount for this work if a freelancer (you) does not give quality work, it is ok to lose this minimal amount.
Understand the client's psychology, he just plays in blind (in case of first-order without having review or ratings from past clients).
And this is not I am just telling you, I have personally applied this method and guess what!
I have been receiving enough orders for the project from the clients.
You can go through my rates and services that I have offered to the clients.
Give an Offer before he denies to give Order
Do you know how I did get my first order?
Let me tell you, it's very interesting.
The client came to me for an order, and he was chatting with me about my services, quality, and experience in that field which he wanted me to write the article.
His behavior was sounding that he was not sure that he should give me an order or not.
What did I do?
As long as I concluded that he is juggling to decide on giving me an order, without wasting a single moment, I created an offer for him.
I offered him that I will write 300 words extra in the same package and will give 2 focus keywords instead of one.
He just made up his mind to give me an order and guess what, I got an order.
Yes, after receiving an order, it is up to you, how you satisfy the client.
Do the great work, apply your 100% efforts behind that work, and earn a 5-star review and nice feedback from the client.
Repeat this strategy for the first 10 to 15 clients, then after you won't need to do so.
By reviewing the feedback from the past clients for you and the star rating, your clients will directly place the order instead of communicating more and asking for proof.
What is the Time to increase the Rates
Yes, you or I can not do the work at the same rates forever or for a long time.
As long as you will be doing the work for your clients and will be getting nice and positive feedback with a 4-5 stars rating, your profile will become stronger and stronger.
Over time, you can slowly increase your rates with the minimum changes in your services.
Do not show a major difference in your rate instantly.
Work for some time at a lower rate, because this is an unbeatable method.
Give the Work Delivery on Time with Quality
There are two pillars of any business.
If you do your work with very great quality and deep research, but you are not able to deliver it on time, your client will leave a negative review.
Vice versa, if you deliver work on time or before time, but it is not done with the quality your client will raise a negative review.
So, luckily if you get an order, do it with quality and deliver on time (if possible, deliver before the time).
Give the Instant Reply
In case you are doing a client's work and you got a ping for his query, do the instant reply to the client.
It creates a very good and professional impression as a freelancer on the client's mind.
He assumes that you are full of knowledge freelancer and multitasking person.
Do not be much talkative
Do not approach to chat with client again and again. I am sharing this information because this is my own experience.
Whatever details you want for the project, you should follow the below process which is beneficial for you for the positive review and 4+ star rating.
Go through the whole project before starting.
Make notes on what will you require to start the project till completion.
If anything is missing or you are not able to understand, ask him in starting.
After starting the work, do not ask again and again.
In my case, my client did not clear what he wanted and I had to ask again and again with the purpose of to not do the mistake.
But he marked my that approach as negative feedback and gave me 1 star.
So, you make sure that you just do the work instead of asking questions frequently.
Work till the Client satisfaction
Once you complete the project, do not leave the customer after the delivery of the project.
Ask him " is my project okay?" "Are you satisfied or you need any correction, modification, or revision?"
If the client says "No", tell him to give some more hours, you will do the needful correction according to his requirement.
If he says "Yes", then Good Luck!
If he says "Yes it's good, but some errors there are, but I will fix", then tell him " No, you are my client, your satisfaction is my responsibility, I will do correction till your satisfaction, tell me what you want to change".
You can see the chat in above image which was done by me with my client and he was approaching me to give more projects.
He left a 5 star ratings for me.
Give the Honest Review for Client
Here is one of the most important aspects is going to be discussed.
You may be confused about what I am conveying to you, but read this carefully, if don't get once, read it again.
First, when you complete the work and resubmit it to the client, he has an option to leave a review about you on the platform (site), which is visible for everyone who wants to hire you.
I the same way, you also have an option to leave a review about the client which is visible for the all freelancer whom he contacts after you for his project.
Here you have to leave an honest review about that client.
Second thing, do not leave a positive review to make the client happy, because if you have not a good experience with that client, even if you are leaving a good review, it will create hurdles for you for upcoming clients.
Because see, to work for a long term with clients generates good opportunities, but, to work with a bad client for a long time is not worthy.
So always leave an honest review and it will also help the next freelancer whom the client will contact after you.
Conclusion
Sometimes somewhere being professional is also not good for our business health.
We need to act in other ways in some places.
Just getting registered on freelancing sites, and working for clients is also not enough.
Like, to get the first rank just is not enough, the real win is to maintain the first rank position for a very long time.
If you are reading this article to the end, it means sounds useful for you, and you like this one.
If you like this article, and you assume that it can be useful to others also, you should share this at everywhere maximum.